AIR MAIL PILOT SACRIFICED LIFE TO SAVE OTHERS
April 30, 1921, Plain-Dealer Forced to seek a landing in downtown Cleveland by engine trouble and unable to see because of a dense fog, Air Mail Pilot J.T. Christensen (James Tinus) yesterday afternoon sacrificed his life rather than attempt a landing in a street -- a course which would have endangered the lives of many people. Facing death, he struggled for fifteen minutes to find a landing place before the crash scene.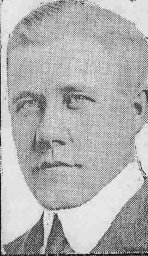 James Tinus Christensen
The pilot fell 200 feet to the Erie railroad tracks at Scranton and University roads S.W., almost under Central viaduct. His airplane was reduced to a mass of tangled wreckage, the gasoline tank exploded and the fire which followed burned the pilot's body, caught under the debris.
Christensen, his engine missing, searched back and forth over the southern portion of Cleveland for a vacant lot in which to land. He flew low, barely missing the tops of some buildings. Many person stood on the street and watched. They said his engine seemed to be missing, and to the observers it was evident he was in straits.
Once he skirted over a vacant lot into which he might have dropped, but did not see it because of the fog. He tried once to rise, but was unable to attain enough altitude to allow him to continue the search.
When he was directly over the Cuyahoga river he flew upstream, presumably intending to drop into the river, but Central viaduct suddenly loomed ahead and he was forced to return.
Trapped between Central viaduct and the high level bridge, he circled upstream once more, flying at the height of the viaduct until suddenly his engine appeared to fall entirely and he fell, the plane striking on its nose among the piles alongside the railway tracks.
Misses River by 25 Feet
Aviators say that if he had dropped into the river, twenty-five feet away, his life would have been saved.
The aviator's battle for life was watched by hundreds who were attracted by the roaring of the motor.
His flying mates, who declare he was one of the most skillful of air mail pilots, say that in the fog he could not have been able to see beyond 200 feet.
Unable to get his engine to run properly, they declare, he was forced to look for a way out of his difficulty.
The only paths open were to attempt a street landing, with great danger to vehicles and lives, to find a vacant lot, an attempt which he made and failed in, or to drop into the river. They say that he was trying to descend into the river, feeling his way in the fog, when the crash came.
Christensen was making his first trip on the Chicago to Cleveland route. He was transferred recently to that division from the Cleveland to New York route.
He told friends when he was transferred that it was exactly the assignment he wanted. The plane he was flying was a converted De Haviland.
...Christensen was 31 years old. His home was in Maywood, Chicago, but he maintained a room with Carl Krumhar.
...He was well known here, having flown at the first aerial tournament held in Cleveland at Woodland Hills park, Aug. 15 to Aug. 25, 1919.
He married two years ago in Cleveland Miss Lena Davis. He met Miss David while she was attending Dana College, Blair, Neb. The couple took an airplane honeymoon trip from Cleveland to Akron and other Ohio cities.
Mrs. Christensen is visiting relatives in Nebraska and no one was at home at the little cottage near the Maywood air field in Chicago when reporter called there last night.
The dead aviator was one of the best flyers in the service, heads of the mail flying department said. He held three speed records.
On Dec. 30, 1920, he startled the commercial flying world by taking mail from Chicago to New York, 741 miles, in five hours and thirty-one minutes, averaging 117 miles an hour from Chicago to Cleveland and 151 miles an hour from Cleveland to New York. Another record was established when he flew a De Haviland from Omaha to Chicago in two hours and forty-five minutes.
Knew Air Currents
Christensen's speed supremacy in the air mail service lay, according to officials, in his knowledge of winds. He knew that the winds varied at different altitudes and always jockeyed up and down until he found the most favorable current.
He was taught to fly at the old Curtiss flying school at Norfolk, Virginia, before the war. When the war broke out he joined the army as a civilian instructor and was sent to Gerstner field, Lake Charles, LA. He later was given the rank of second lieutenant and became instructor in stunt flying at which he was expert.
After three years in the army he was discharged in the spring of 1919 and did civilian flying at Erie Beach, Erie, Pa. He came to Cleveland to fly at the Woodland Hills tournament and then joined the mail service.
He flew on the Chicago-to-Omaha division, then was transferred to the Cleveland-New York route and recently to the Cleveland-Chicago route.