UNSEEN OBSTACLE BROUGHT DOWN YOUNG AIR MAIL PILOT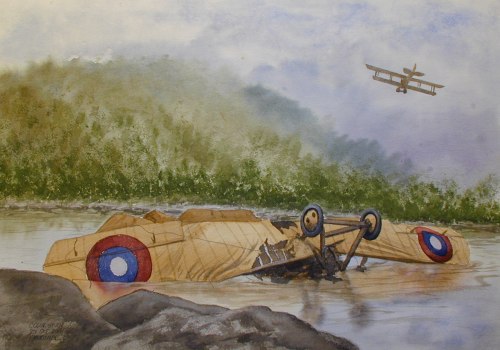 Watercolor by Mike Newcomer from NewksArt.com
On September 20, 1920 U.S. Air Mail Service pilot Frederick A. Robinson took off from Hampstead, New York bound for Cleveland in a de Havilland-4H, #31697 carrying 14 bags of mail. The U. S. Post Office by then had been flying the mail for 27 months, but it had not been a happy time for the new service. Since its inauguration on May 15, 1918, eleven pilots, one divisions superintendent, four mechanics, one clerk and one helper had lost their lives in fatal crashes.
Robinson likely gave that depressing statistic scant concern on his scheduled route from New York to Cleveland with a refueling stop in Bellefonte, PA. He was a young, 22 years old pilot who thrilled spectators with his daring stunt flying.
That day the flying weather was far from ideal; heavy fog covered much of the route. Somewhere northeast of Harrisburg, PA, Robinson lost sight of the ground, railroad tracks and other navigational markers he often sighted. Flying low because of the bad weather, he eventually picked up the Susquehanna River north of Harrisburg and followed it north toward Millersburg.
Two telephone poles, one-eighth of a mile from Millersburg, spanned the river from Berrys Mt.on the east side to Mt. Patrick on the west side. Unaware of their presence, Robinson tangled into their heavy cables, loss control and slammed into the east shore of the river bank and died.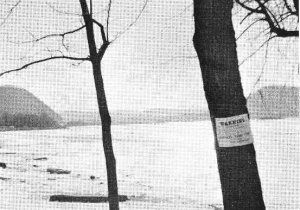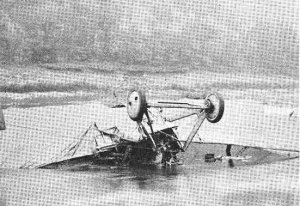 Left: Cables were strung across river to towers on hill tops, left and right. Right: Robinson's plane
---
In honor of Robinson, a small airfield was built about 1 1/2 miles east of Millersburg near Rt. 209 named Robinson Field. It was officially dedicated on July 13, 1930. The population of Millersburg at this time was around 2000, but they estimated the crowd at 6000. The fly-in attracted 50 planes; also the Army and Navy planes put on shows. The planes included a Ford Tri-motor, Ryan Monoplane, Fairchild 71, Goodyear Blimp, five Navy scout planes, Army Curtiss Hawk.
The field only lasted a few years and is now known in Millersburg, PA Centennial Books and at the local Historical Society of Millersburg where memorabilia from the Robinson Airport is exhibited, including that of Mr. "Hops" Gilbert, who owned the airfield where he flew his Travel Air K4000 and a Fairchild KR-31.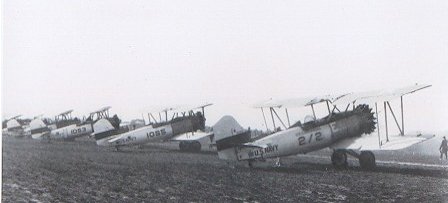 .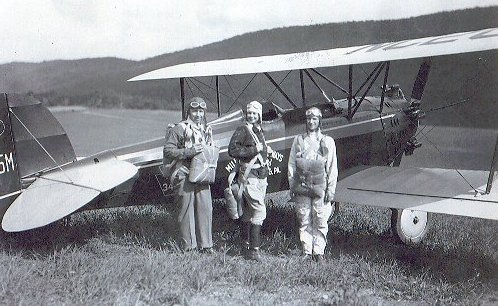 Parachute jumpers at the fly-in: (Left to right) Howdy Reitenbaugh, Violet Kilpatrick and Herb Frye. Plane is a new Fairchild KR-34 NC205M.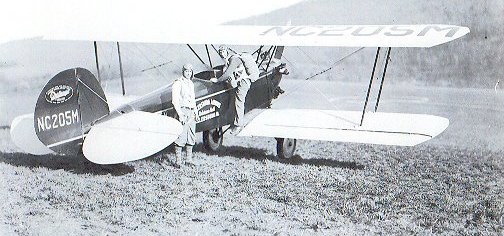 (Left to right) Marion "Hops" Gilbert and Howdy Reitenbaugh. Plane is a new Fairchild KR-34 NC205M.
All Robinson Field photos courtesy of Ron Billman and Historical Society of Millersburg.
History | Air Mail Pilots | Photo Gallery | Flight Info | Antique Airplanes | Members
Newsletters | Museums/Books | Collectors | Questions | Links | Home Page