Earle Ovington, in his perky little Bleriot, the Dragonfly, grabbed aviationís golden ring when U.S. Postmaster General Frank H. Hitchcock authorized him to fly the nationís first airmail. Ovington was honored on September 23, 1911, the day he made the memorable flight, and historians have venerated him ever since as the daring young man who launched America into the civil aviation age.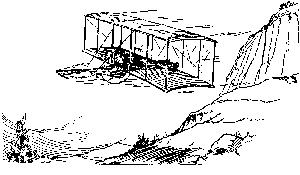 But another American flyboy clambered into the sky in 1911, six full months before Ovingtonís precedent-setting flight. His name was Fred Wiseman. Authorized by Santa Rosa, Californiaís postmaster, he flew his home-made craft from point to point, carrying the mail Ė three letters, a sack of coffee and 50 copies of the local newspaper. He claimed at the time, and his supporters still do, that he was worldís first airmail pilot.
Why was Wiseman relegated to the footnotes of early aviation history? Some call it a technicality, others a political decision. Whereas a local postmaster sanctioned Wisemanís flight, a representative of the U.S. Post Office Department in Washington, D.C. authorized Ovingtonís. The question of who was first stirs controversy, but all debaters will agree that Wisemanís accomplishment nevertheless deserves recognition.
Born November 10, 1875, Fred Wiseman grew up in the town of Santa Rosa, California, the county seat and shipping center for the produce-rich Sonoma Valley. His passion was speed. At age 23, he became a bicycle shop manager and gained fame as a champion cyclist. Then he turned his attention to automobiles. By the time he turned 33, heíd competed in and won prize money driving Stoddard Dayton cars.
Auto racing, as he soon learned, took second place in financial reward to flying exhibitions. The Wright brothers were taking in $60,000 for just showing up. Flight brought in the big bucks.
Assembling pals with money and know-how, he convinced them to invest in his dream. They included a fellow racing driver, a butcher, two mechanics and a wholesale meat company scion.
In lieu of an aeronautical blueprint, they drafted the design using photos of Wright, Farman and Curtiss planes.
The first craft was a biplane with front and rear elevators and upper and lower wing ailerons, weighing in at 670 pounds. They carefully selected the wood to make strong laminated ribs. Reworking an engine purchased from a San Francisco engine company, Wiseman increased its performance to 50 hp.
On May 30, 1910, a crowd of spectators gathered for the inaugural flight. Although Weisman had tested the plane before, having circled a field twice at about 50 feet, this time he could barely get it in the air. Once he did, however, he flew the craft in straight ground hops to one end of a pasture, where it was towed back by the ground crew.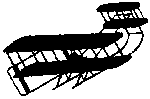 This was not the thundering success Weisman and his buddies envisioned, still it represented an aeronautical milestone they could later boast about. Wisemanís aircraft was the first California-built plane to fly.
Back to the drawing board. The crew of enthusiasts installed a new engine, a 60 hp 1,400 rpm, Hall-Scott, 8-cylinder. Didnít more power mean higher altitude and greater control? It all made sense; except during the first demonstration, the souped-up craft hit a fence on the ground, and sustained damage.
What they needed now was a back-up plane, a better design, a replacement craft in case the first one crashed. In May 1910, the merry band of builders put their heads together and built another plane. Certain improvements, including a greater-pitch propeller, a double rather than single elevator and an altered tail structure, succeeded in getting Weisman aloft. So much so that by January 1911, he won prize money in flying meets for distance and sustained flight. He made the state of Nevadaís first heaver-than-air flight. The public took notice, and he gained national recognition. Weisman was ready for immortality.
The goal was 14 miles by air, non-stop, from Petaluma to Santa Rosa. As it turned out he could have walked the distance faster than he flew it, but thatís jumping ahead of the story.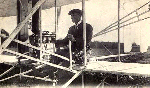 Days leading up to February 17, 1911, had been rainy and generally miserable. Undistracted by the weather, Weisman took off from Kenilworth Park in Petaluma at 12:30 p.m. Enthusiastic spectators lined the field. A reporter exuded, "the huge contrivance rising easily and shooting out over the fence and across the park like a bird..."
The bird carried three letters from civic leaders, a package of groceries and the local newspaper, the Press-Democrat. Weisman bumped along at about 100 feet over vineyards, dairies and chicken and cattle ranches.
Hearing the drone of his engine overhead, a woman dashed out of her farm house, waving her apron. Wiseman reached over to his bundle of newspapers and tossed her one. This simple act, delivering a newspaper by airplane, may have been his first milestone as an airmail pilot.
Four-and-one-half miles out his engine sputtered and quit. Nearly missing a windmill, he force-landed with a jolt in a large, muddy field. The wheels dug in deep and one of his skids broke. The problem was traced to the magneto breaker-block gummed in flight, making it impossible to maintain a spark. Both engine and skid were quickly repaired.
That night the flight crew covered the plane with a large canvas to protect it from dew or rain. Two men slept beside the plane, but Wiseman, who needed his rest to tackle the remainder of his experimental flight the next day, spent the night in Petaluma.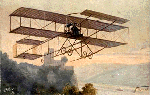 Came the next morning, the crew spread the canvas out in front of the plane, using it as a runway. Wiseman clambered into the driverís seat and told them to turn over the prop. The plane rolled on the canvas, nearly getting him stuck in the mud again, but gaining enough speed to become airborne.
An unsuspecting Santa Rosa resident might have thought the town was being invaded. When it became apparent Wiseman was flying home, bombs exploded, whistles blew and bells rang. Town folks gathered in automobiles, assembled by foot and on horses, swarming to the circus grounds to see him land.
Unfortunately, he didnít get quite that far. When he rose to avoid some trees, a wire broke lose and caught in the propeller. The engine stopped and down he glided onto a newly-plowed field of wet adobe. Once again his wheels sunk in the mud; the plane pitched forward on its skids. Uninjured, Wiseman climbed down and acknowledged his crowd of admirers. Given one minute and a half more he would have made it to the city limits.
The good folks of Santa Rosa drove him into town to deliver his mail and package of groceries. History had been made. A letter from Petaluma postmaster, John E. Olmsted, to Santa Rosa postmaster, Hiram L. Tripp, confirms Wisemanís first-place ranking.
It reads: "Dear Sir and Friend, Petaluma sends, via the air route, congratulations and felicitations upon the successful mastery of the air by a Sonoma County boy in an aeroplane conceived by Sonoma County brains and erected by Sonoma County workmen. Speed the day when the U.S. Mail between our sister cities, of which this letter is the pioneer, may all leave by the air route with speed and safety."
On May 15, 1947, the Smithsonian Institution confirmed Wisemanís feat as the worldís first airmail run. A year later his plane was permanently exhibited at the National Air Museum in Washington, D.C. Interestingly, he ranks as first in the world by one day. On February 18, 1911, Henri Pequet flew the mail five miles from Allahabad to Naini, United Provinces of India.
Wiseman didnít pursue flying as a career. "I didnít see any future in it," he said later.